3PL Logistics Company
Supply Chain Expertise. Strong Resource Network. Cost-Efficient Services.
Third-party logistics, or 3PL companies, allow businesses to outsource operational logistics.
Why use 3PL providers instead of managing transportation and storage internally? First and foremost — your time, money, and cargo is precious — trust an expert to manage it so you can focus on day-to-day business operations. Additionally, 3PL logistics companies serve as a one-stop shop for supply chain, packaging, transportation, distribution, warehousing, and everything in between.
DSI Logistics is one of the top 3PL companies with international reach that helps with the management of customers' supply chain, product transportation, delivery, and warehousing. Our customized solutions include transportation, public and contract warehousing, and additional value-added services. DSI Logistics operates in areas throughout Georgia spanning Atlanta, Port Wentworth, Savannah, and beyond.
3PL Warehouse
When you choose DSI Logistics for your 3PL warehouse management and logistics needs, you will benefit from our modern and sustainable facilities. We currently operate over one million square feet of warehousing in Savannah to provide first-class domestic and international third party warehouse services. No matter if you're looking for contract or public warehousing, our team will work with you to find the best 3PL warehousing solutions for you and your products.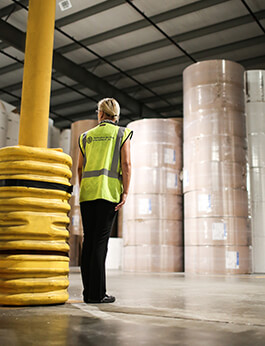 Transportation
We will arrange all your transportation needs, including freight broker services, negotiations, and invoicing, for a seamless first mile/last mile. From international container drayage to domestic truck and rail transportation, we can ensure fewer days on wheels for efficient 3PL shipping.
Warehousing
DSI Logistics provides contract warehousing options within our facilities, as well as facilities in other locations, for those looking for long-term storage. We also offer public warehouse space for those with short-term needs.
Value-Added Services
We take a hands-on approach, getting to know your company, products, and unique business requirements. To provide the highest quality service, we also offer pick/pack kitting, product and display assembly, labeling and compliance, repacking and repair, and more.
Whether you need assistance with a single task or full, turnkey 3PL services, our team will work with you to determine what best fits your objectives and budget. Using state-of-the-art technology like transportation management systems (TMS), warehouse management systems (WMS), and electronic data interchange (EDI), we can provide the safest, most reliable logistics for our customers.
For over 30 years, we have worked with businesses in many industries, including:
General Retail
Appliances and White Goods
Paper and Forest Products
Food and Beverage
Metals including Coils, Sheets, Ingots, Sows, and Billet
Project Cargo — Flat Racks and Heavy Weights
Bulk Transload — Rail and Truck to Container
If you are looking for a logistics company, contact DSI Logistics to handle all your transportation, warehousing, and supply chain needs.
What is the role of third party logistics companies?
When you hire a third party logistics company, they handle every part of the supply chain process from
packaging
,
transportation
, distribution,
warehousing
, and more. Third party logistics companies will also negotiate and research on your behalf to find the best rates, most-reliable carriers, and necessary paperwork. Choosing a third party logistics company takes the stress of logistics off your shoulders.
What types of companies use 3PL?
From small ecommerce shops to Fortune 500 companies, just about any company that moves goods or products can find success using 3PL companies to handle all of their logistics needs. Retailers and manufacturers especially benefit from 3PL companies, but companies in the construction, industrial, and food and beverage industries have also been partnering with 3PL's to handle their logistics.
What is the difference between 3PL and 4PL?
3PL and 4PL companies both offer transportation and logistics services to clients. While 3PL companies focus mainly on shipping and storing, 4PL acts as an extension by focusing on the entire management of the supply chain. Many 3PL can take on the role of a 4PL company, depending on the services their clients are interested in.
With a 3PL company, clients have more control of the movement and storage of their goods and services. On the other hand, 4PL companies typically take on complete control of their clients' logistics.
What are the advantages of third party logistics?
Time and cost savings
Improved customer service
Access to advanced technology
Additional operational expertise
Improved scalability
International expansion capabilities
Reduced risks
And more